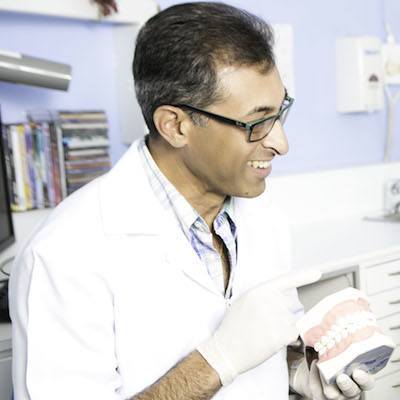 Availability
Monday

08:00 - 17:00

Tuesday

08:00 - 17:00

Wednesday

08:00 - 17:00

Thursday

08:00 - 17:00

Friday

08:00 - 17:00
Dr Jay Khoosal qualified as a Dentist at the University of the Witwatersrand, with subsequent training in the specialty of Paediatric Dentistry.
His progressive approach has elevated the practice he opened with his partner, Dr Anita Khoosal, to the cutting edge of new dental technology. Dr Khoosal was one of the first dentists in South Africa to completely computerise both practice management and radiography towards a paperless environment. He is also one of South Africa's dental pioneers, harnessing the power of 3D-Printing to produce fast and flawless dental crowns with CAD CAM technology.
Dr Jay Khoosal, with 25 years of dental experience, is respected for the precision and skill with which he uses the latest dental instrumentation in restorative and aesthetic dentistry. Combining this ability with his warm and witty disposition, he is achieving victory towards great oral health for his patients every day.
Dr Khoosal currently serves in The Art of Living Foundation (a non-profit organization) as a Yoga Instructor and as a Life Coach on the Happiness Stress Management Programme. He enjoys singing and playing music as a percussionist and is a very good golfer, playing off a single digit handicap.
"Take a deep breath, and smile."