Root Canal (Endodontics)
What is Root Canal Treatment?
Root canal treatment is often required in order to preserve a tooth which has damaged tissue at its core. For example, if a tooth is decayed to the point where the outer layers (enamel and dentine) are eroded, or if a tooth is fractured, the core becomes susceptible to infection as it is left exposed.
A root canal treatment involves removing the damaged tissue with fine instruments , often under magnification. Subsequently the inner delicate part of the tooth is disinfected and sealed with a biocompatible material. This tooth is often capped by a crown to safeguard it against fracture as it is often weak and brittle.
Teeth have a formidable degree of individual variation. This complexity is compounded by the confined, oftentimes inaccessible spaces, and the sensitivity of the teeth involved. For these reasons, root canal therapy is far from straightforward.
The old myth that root canal treatments are dental nightmares has been dispelled!
Armed with the latest digital apex location technology, digital radiography, modern rotary instrumentation, high-res magnification and over 25 years of root canal therapy experience, we are confident that most patients experience painless root canal treatment.
Toothache waits for nobody.
And neither should you.
We'll do whatever it takes.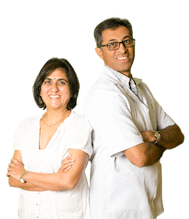 BOOK YOUR APPOINTMENT
Your smile is in safe hands.